Home

/

Galaxie A SAE 0W40
Galaxy Competition Synthetic 100% - Galaxie A SAE 0W40

Galaxie A SAE 0W40
Automobile
3102

Families :

PAO ESTERS

Synthetic 100%

Viscosity :

0W40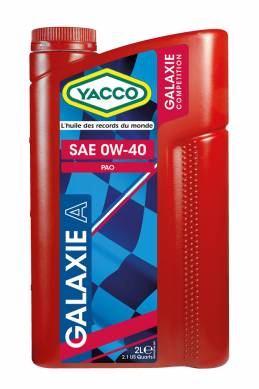 Approvals
Renault RN17 RSA, backward compatible with RN0710/RN0700
Specifications
ACEA C3 (« Mid SAPS » technology)
Available packing sizes
| | Référence | Conditionnement | Carton |
| --- | --- | --- | --- |
| 2L can | 3102 | 24 | 02 |
Descriptions
Yacco Galaxie A SAE 0W40 is a 100% synthetic PAO based racing oil.
100% synthetic oil made from synthetic polyalphaolefins (PAO), ensuring optimal lubrication under severe service conditions. Initially developed for gasoline engines, including turbocharged and multi-valve ones, this oil is also suitable for diesel engines including those equipped with a DPF (diesel particulate filter).
Specially designed for Renault Group sport engines (Alpine, RS, …). Also suitable for engines that require SAE 0W-40 ACEA C3 lubricant.
Properties and advantages
SAE 0W means low viscosity at cold temperatures, thus providing enhanced engine protection upon start-up and reducing emissions.
100% synthetic PAO formula with high H.T.H.S viscosity ensures excellent shear resistance, thus maintaining a thick oil film at hot temperatures, even under severe service conditions (competition…).
Mid SAPS " technology extends the service life of diesel particulate filters (DPF) and catalytic converters.
Very low volatility means reduced oil consumption.
Excellent detergent/dispersant properties keep the engine clean.