Home

/

Galaxie GTS 5W40
Galaxy Competition Synthetic 100% - Galaxie GTS 5W40

Galaxie GTS 5W40
Automobile
3124

Synthetic 100%

Viscosity :

5W40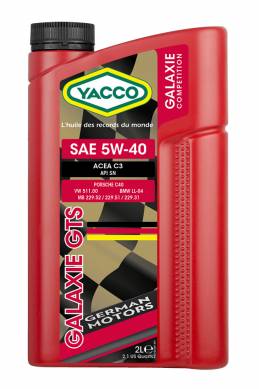 Specifications
ACEA C3
API SN
VW511.00
BMW LL-04
MB229.52/229.51/229.31
Available packing sizes
| | Référence | Conditionnement | Carton |
| --- | --- | --- | --- |
| 2L can | 3124 | 24 | 02 |
Descriptions
Yacco GALAXIE GTS SAE 5W40 is a 100% synthetic racing oil. This oil a 100 % synthetic lubricant ensuring optimal lubrication under severe service conditions.
Yacco GALAXIE GTS SAE 5W40 is specifically designed for highly stressed German sport engines used on roads or race tracks : W12, V10, V8 and 6 cylinders. Also suitable for diesel engines including those equipped with a DPF (diesel particulate GALAXIE lubricants are available in different viscosity grades depending on racing conditions, engine type and preparation.
Properties and advantages
High viscosity index SAE 5W 40 ensures immediate lubrication upon start up while maintaining excellent engine protection at high temperature.
Excellent shear resistance maintains a thick oil film at hot temperatures, even under severe service conditions.
Increased thermal stability prevents the formation of deposits. The low ash Mid SAPS formula extends the lifespan of particulate filters and catalytic converters.
Excellent detergent dispersant properties keep the engine clean.