Home

/

GALAXIE S - SAE 10W50
Galaxy Competition Synthetic 100% - GALAXIE S - SAE 10W50

GALAXIE S - SAE 10W50
Automobile
3097

Families :

MID SAPS

Synthetic 100%

Viscosity :

10W50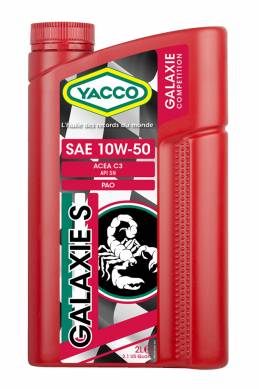 Specifications
ACEA C3 ("Mid SAPS" technology)
API SN
Abarth 0101
Available packing sizes
| | Référence | Conditionnement | Carton |
| --- | --- | --- | --- |
| 2L can | 3097 | 24 | 02 |
Descriptions
Yacco GALAXIE S 10W50 is a 100% synthetic PAO based racing oil.
100% synthetic oil made from synthetic polyalphaolefins (PAO). Provides optimal lubrication under severe service conditions and extended lifespan of highly stressed engines. Initially developed for gasoline engines, including turbocharged and multi-valve ones, this oil is also suitable for diesel engines with a DPF (diesel particulate filter).
Specially designed to meet the requirement of sport engines, Yacco GALAXIE S SAE 10W50 is also suitable for vehicles when the manufacturer recommends the use of SAE 10W50 ACEA C3 or API SN (Abarth) oils.
Properties and advantages
100% synthetic PAO formula with high H.T.H.S viscosity ensures excellent shear resistance, thus maintaining a thick oil film at hot temperatures, even under severe service conditions (competition…)
"Mid SAPS" technology extends the service life of diesel particulate filters (DPF) and catalytic converters.
Very low volatility means reduced oil consumption.
Excellent detergent/dispersant properties keep the engine clean.
Outstanding resistance to oxidation.