Home

/

LUBE BM-12 - SAE 0W30
Yacco Lube Synthetic 100% - LUBE BM-12 - SAE 0W30
LUBE BM-12 - SAE 0W30
Automobile
3066

Families :

MID SAPS

Synthetic 100%

Viscosity :

0W30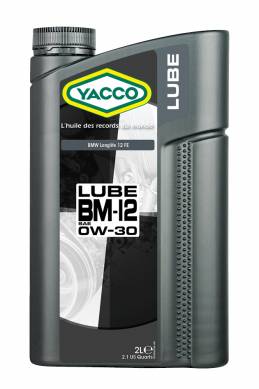 Available packing sizes
1L can
2L can
208L barrel
1000L tank
1000Lbulk
Descriptions
LUBE BM-12 SAE 0W30 is a 100% synthetic "Mid SAPS" oil for gasoline and diesel engines.
LUBE BM-12 SAE 0W30 is specifically designed to meet the BMW Longlife 12 FE specification and recommended by BMW to improve fuel efficiency.
Recommended for BMW and Mini following engines:
1) 14d, 16d, 18d, 20d and 30d diesel * engines from 2014 onwards (except F3x 30d, 2019 model). For 25d, 35d, 40d and 50d models, a BMW LL 04 oil is recommended. DO NOT USE this SAE 0W 30 oil in the E71 diesel engine of the X6 model.
2) gasoline engines without particulate filter from 2002 onwards, recent gasoline engines with particulate filter, and gasoline engines without particulate filter fitted in M series S55 or S63 models.
*Applicable in EU Member States, including Norway, Switzerland and Liechtenstein.
Properties and advantages
100% synthetic BMW Longlife 12 FE approved formula. Low viscosity SAE 0W 30 improves fuel efficiency, and allows to reduce CO 2 and exhaust emissions
"Mid SAPS" formula containing lower levels of sulphated ash, phosphorous and sulphur extends the service life of particulate filters (DPF) and catalytic
Enhanced engine protection against corrosion, wear and deposit formation
Immediate and optimal lubrication upon start up, even at extremely low temperatures.