Home

/

Lube BM-17 FE SAE 0W20
Yacco Lube Synthetic 100% - Lube BM-17 FE SAE 0W20
Lube BM-17 FE SAE 0W20
Automobile
3077

Families :

MID SAPS

Synthetic 100%

Viscosity :

0W20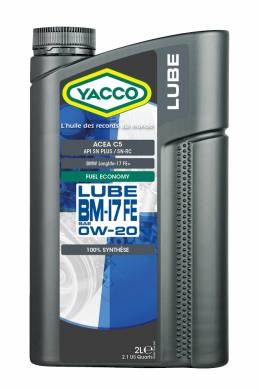 Approvals
BMW Longlife-17 FE+ (Can replace BMW Longlife-14 FE+ oil. The drain interval must be adapted to the quality of the fuel).
Specifications
ACEA C6 et C5
API SP-RC
API SN-RC
API SN PLUS
ILSAC GF-6a
Opel/Vauxhall OV0401547 (GM dexos D/ dexos2 Gen2/ GMW 18006)
MB 229.72/229.71
JLR 03.5006
Available packing sizes
1L can
2L can
60L barrel
208L barrel
1000L tank
1000Lbulk
Descriptions
Yacco Lube BM-17 FE SAE 0W20 is a 100% synthetic P.A.O based fuel economy lubricant and Mid SAPS technology.
100 % synthetic fuel economy lubricant for gasoline and diesel engines. Recommended for BMW gasoline engines where BMW Longlife 17 FE+ oil is required. Also suitable for use in diesel and gasoline engines from other manufacturers that require one of the below-mentioned specification. Recommended for BMW/MINI B38/B48/B58 and N20 series gasoline engines manufactured from 2014 onwards.
DO NOT USE in M series BMW engines.
Properties and advantages
Low H.T.H.S viscosity (SAE 0W20) provides quick oil flow, increases fuel economy, reduces CO2 and exhaust gas emissions, and offers excellent engine protection against wear.
Specific additives prevent the risk of L.S.P.I (low speed pre-ignition) in the last generation of gasoline direct injection engines.
"Mid SAPS" technology extends the service life of diesel particulate filters (DPF) and catalytic converters.
Good detergent/dispersant properties keep engines clean.
Excellent shear stability ensures optimal engine protection at high temperatures.
Immediate lubrication upon start-up, even at extremely low temperatures.