Home

/

Lube P - SAE 0W30
Yacco Lube Synthetic 100% - Lube P - SAE 0W30
Lube P - SAE 0W30
Automobile
3061

Families :

MID SAPS

Synthetic 100%

Viscosity :

0W30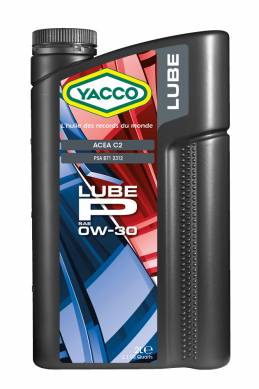 Approvals
PSA B71 2312 (2017 version)
Available packing sizes
| | Référence | Conditionnement | Carton |
| --- | --- | --- | --- |
| 1L can | 3061 | 25 | 01 |
| 2L can | 3061 | 24 | 02 |
| 5L can | 3061 | 22 | 15 |
| 60L barrel | 3061 | 10 | 00 |
| 208L barrel | 3061 | 06 | 00 |
| 1000L tank | 3061 | 30 | 00 |
| 1000Lbulk | 3061 | 19 | 00 |
Descriptions
Yacco Lube P SAE 0W30 is a 100% synthetic "Mid SAPS" oil for diesel and gasoline engines.
100% synthetic high performance fuel economy oil for diesel and gasoline engines in passenger cars and light commercial vehicles. Specifically designed for the most recent PSA GROUP (Peugeot/Citroën/DS) engines which require PSA B71 2312 oil: BlueHDi, hybrid engines, engines equipped with a Stop & Start system, etc.
This ACEA C2 oil is also suitable for diesel and gasoline engines from other car manufacturers which require the use of ACEA C2 SAE 0W-30 oil: FIAT Group (Alfa Romeo, Fiat, Jeep, Lancia), Honda, Hyundai, Kia, Lexus, Mitsubishi, Subaru, Suzuki, Toyota, etc.
Properties and advantages
100% synthetic ACEA C2 SAE 0W30 formula with PSA approval. Allows for significant fuel economy, thus reducing CO2 and exhaust gas emissions.
"MID SAPS" technology (lower levels of sulphated ash, phosphorous and sulphur), prolonging the service life of particulate filters and increasing the protection of catalytic converters.
Enhanced protection against wear and the formation of deposits.
Low viscosity at cold temperatures for easy start-ups, whatever the outside temperature may be.
Allows for safe extended oil change intervals.