Home

/

BVX FE SAE 75W
Semi-synthetic lubes Mineral - BVX FE SAE 75W
BVX FE SAE 75W
Gearboxes / beam axles
3421

Families :

Fuel Economy

Mineral

Viscosity :

75W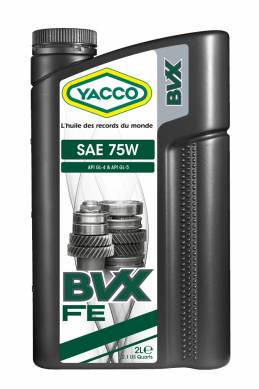 Specifications
API GL-5 and API GL-4
VW 052 178 / VW 052 512 / VW 052 726 / VW 052 527 / VW 070 726 / VW 060 726 / VW 052 726
Fiat 9.55550-MZ6 75W
Ford WSS-M2C200-D2
Nissan LV MT1 75W
BMW 83 22 2 409 710/ 83 22 0 397 244/ 83 22 0 306 816/ 83 22 0 397 244
BMW DTFI (83 22 2 409 710)
Descriptions
Yacco BVX FE SAE 75W is a high-performance fuel economy transmission oil.
Universal fuel economy transmission oil suitable for a wide range of passenger cars and light commercial vehicles. Low viscosity grade SAE 75-W helps to improve fuel economy.
Properties and advantages
Makes gear changes smoother upon start up and helps to protect the environment by reducing fuel consumption and exhaust emissions (CO2 , etc.).
High extreme-pressure properties provide excellent resistance to heavy loads, even under the most severe operating conditions.
Compatible with gear materials and seals.
Excellent anti-foam, anti-corrosion and anti-wear properties mean enhanced protection of gear components under any service conditions.
This oil has a wide range of uses and is recommended for many recent European and Asian conventional manual transmissions.