Home

/

MVX 1000 2T
2-stroke motorcycles lubes Synthetic 100% - MVX 1000 2T
MVX 1000 2T
Moto / quad / Karting
3332

Families :

ESTER

Synthetic 100%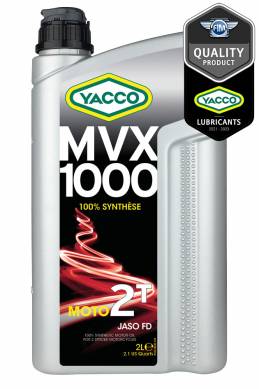 Specifications
JASO FD Oil code 033YCO140
API TC
ISO-L-EGD
2T direct injection engine
Descriptions
Yacco MVX 1000 2T is a 100% synthetic oil for 2-stroke motorbike engines.
Yacco MVX 1000 2T is a 100% synthetic high-tech oil for powerful 2 stroke-engines. Suitable for competition, on-road and off-road uses. Also suitable for 2-stroke engines with direct injection or catalytic exhaust: motorbikes, quads, karts, etc. Compatible with separated or pre-mix lubrication.
Mixture: According to OEM's recommendations: generally from 1 to 3%, up to 6% for 100cc karts.
Properties and advantages
Synthetic ester-based oil provides exceptional resistance to high temperatures, preventing risks of engines seizing.
Excellent anti-smoke performances.
Pre-diluted for instant and stable mixing with fuel.
Low-ash formula, preventing the formation of deposits in the combustion chamber.
Prevents clogged exhaust pipes, ports and pistons.