Home

/

MVX 500 4T SAE 10W30
4-stroke motorcycles lubes Synthetic technology - MVX 500 4T SAE 10W30
MVX 500 4T SAE 10W30
Moto / quad / Karting
3323

Synthetic technology

Viscosity :

10W30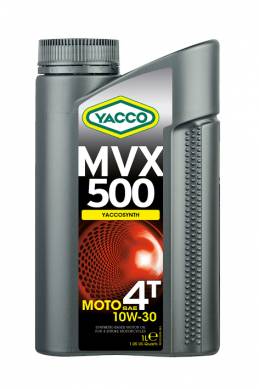 Specifications
JASO T903:2016 MA2
API SL
API SN (engine performance)
Available delivery sizes
1L can
208L barrel
4L can
Descriptions
Yacco MVX 500 4T SAE 10W30 is a synthetic technology engine oil for 4-stroke motorbikes.
Synthetic technology SAE 10W30 engine oil formulated for 4-stroke motorcycles. Perfect engine lubrication, even under extreme service conditions and high speed, all year round. Suitable for all types of motorbikes (roadster, custom, GT and sports bikes). Meets Honda requirements for motorbikes manufactured from 2004. Also suitable for integrated gearboxes, ensuring increased protection of the clutch/gear unit (JASO MA2).
Properties and advantages
SAE 10W30 grade provides easy cold starts and quick oil flow.
Good detergent/dispersant properties.
Specific friction properties for maximum performance of the clutch/gear unit.
Very good protection of the engine and gearbox against wear.
Maintain initial engine performance by optimum protection against deposits.
Lower exhaust emissions and enhanced fuel economy.