Home

/

MVX RACE 4T SAE 15W50
4-stroke motorcycles lubes Synthetic 100% - MVX RACE 4T SAE 15W50
MVX RACE 4T SAE 15W50
Moto / quad / Karting
3320

Families :

PAO/ESTER

Synthetic 100%

Viscosity :

15W50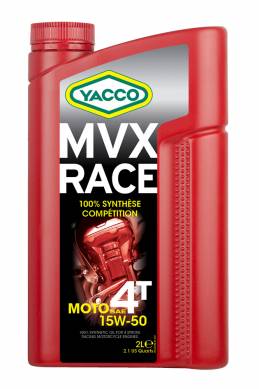 Specifications
JASO T903:2016 MA2
API SN
Exclusively developed in competition, MVX RACE 4T far exceeds the performance criteria required by the main OEMs.
Descriptions
Yacco MVX RACE 4T SAE 15W50 is a 100% synthetic oil for 4-stroke motorcycle engines, competition, and PAO/ESTERS.
100% synthetic race proven engine oil, exclusively developed in competition. Suitable and recommended for Grand Prix, enduro, motocross bikes, etc. Perfect lubrication of gearboxes and wet clutches. Can be mixed with oils of similar performance and specifications.
Properties and advantages
Excellent oil stability at high temperatures under the most severe service conditions.
Instant and optimal lubrication upon start-up.
Outstanding detergent/dispersant properties for a cleaner engine.
Excellent protection of the engine against wear.
Maintains optimal engine performance.