Home

/

MVX SCOOT 2 SYNTH
Scooters lubes Synthetic 100% - MVX SCOOT 2 SYNTH
MVX SCOOT 2 SYNTH
Moto / quad / Karting
3337

Families :

ESTER

Synthetic 100%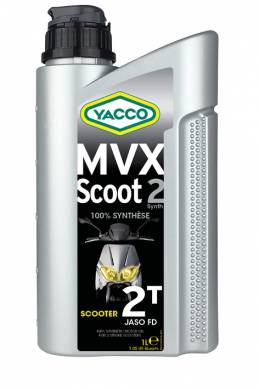 Specifications
JASO FD Oil code 033YCO514
API TC
ISO-L-EGD
Descriptions
Yacco MVX SCOOT 2 SYNTH is a 100% synthetic oil for 2-stroke scooter engines.
Yacco MVX SCOOT 2 SYNTH is a 100 % synthetic oil for 2-stroke high performance scooters and those subjected to intense use.
Environmentally friendly thanks to its specific smokeless additives. Perfect engine lubrication at high speed. Optimal protection of rings/pistons/crankshaft bearings. Suitable for separate or mixed lubrication.
Mixture: from 1 to 4 %, depending on OEM requirements.
Properties and advantages
Reduces exhaust smoke.
Optimal and enhanced lubrication at high temperatures due to its ester-based synthetic formula.
Particularly resistant permanent oil film to prevent engine seizing.
Pre-diluted oil, meaning it can be quickly mixed with fuel and offers excellent lubrication at all times.
Enhanced detergent capacity, especially at high temperatures, to prevent clogging of the exhaust system.