Home

/

INBOARD 100 4T SAE 15W40
4-stroke engine lubes Mineral - INBOARD 100 4T SAE 15W40
INBOARD 100 4T SAE 15W40
Sailing / Yachting
3382

Mineral

Viscosity :

15W40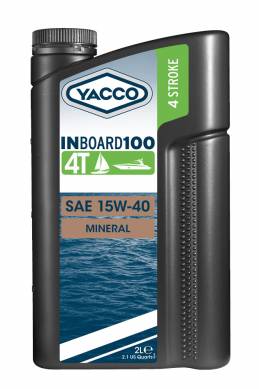 Specifications
ACEA E7 & ACEA A3/B4
API CI 4/SL
Global DHD 1
Caterpillar ECF 2/ECF 1
Cummins 20076/77/78
Deutz DQC-III 10
Man M 3275
MB 228.3
MTU Type 2
Volvo VDS-3
Baudouin Service B (fuel with max. 0.2% sulphur content)
Available delivery sizes
2L can
5L can
20L barrel
208L barrel
Descriptions
Yacco INBOARD 100 4T SAE 15W40 is mineral oil for 4-stroke inboard motors & Sterndrive engines.
Mineral oil for 4-stroke diesel & gasoline inboard motors and sterndrive engines.
Suitable for leisure and professional fishing boats.
Good protection against corrosion.
Keeps engine clean.
Properties and advantages
Specific formula suitable for severe service conditions and high temperatures.
Enhanced lubricating power provides excellent anti-wear protection and prevents cylinder wear.
High resistance to oxidation allows long oil change intervals.
Compatible with Tier 2 and Tier 3 engines with depollution systems (without DPF).
Suitable for all gasoline and diesel engines with or without a turbocharger.