Home

/

MULTI 5 SAE 10W40
Multifunctional lubes Semi synthetic - MULTI 5 SAE 10W40
MULTI 5 SAE 10W40
Transport / Heavy equipment
3316

Semi synthetic

Viscosity :

10W40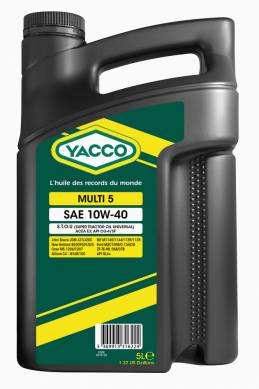 Specifications
STOU: JOHN DEERE J27, Ford M2C 159B/C, Massey Ferguson M
1144 and M 1139, New Holland 82009201/2/3
TRANSMISSIONS API GL4+, ALLISON C4, Caterpillar TO-2, ZF TE-ML 06B, 07B
ENGINES: API CG-4/CF-4 / SF, ACEA E3/E2
HYDRAULIC & UTTO: HV 68/100
Case MS 1206/1207, Ford M2C134D and M2C134C, John Deere
J20C and J20A, Massey Ferguson M 1135 and M 1127A
Available delivery sizes
5L can
20L barrel
60L barrel
208L barrel
1000L tank
1000Lbulk
Descriptions
Yacco MULTI 5 SAE 10W40 is semi-synthetic multipurpose oil for agricultural equipment.
Multi-functional lubricant for most farm equipment applications.
This STOU lubricant provides excellent performance in turbocharged and naturally aspirated diesel engines, transmissions , hydraulics, final drives, and oil immersed brakes operating in agricultural service.
According to manufacturers' requirement, use Yacco MULTI 5 SAE 10W40 or a specific engine oil (TRANSPRO), and a specific oil for the hydraulic system and the transmission (AGRIPRO HJD or AGRIPRO HF6).
Properties and advantages
Semi-synthetic formula ensures faster oil flow upon start-up, and increases protection at high temperatures.
Offers effective protection against wear and corrosion.
Suitable for oil-immersed brakes.
Outstanding resistance to oxidation and shear provide increased stability in service.
High detergent-dispersant properties and outstanding shear stability.