Home

/

LUBE P SAE 5W30
Yacco Lube Synthetic 100% - LUBE P SAE 5W30
LUBE P SAE 5W30
Automobile
3052

Families :

LONG LIFE - MID SAPS

Synthetic 100%

Viscosity :

5W30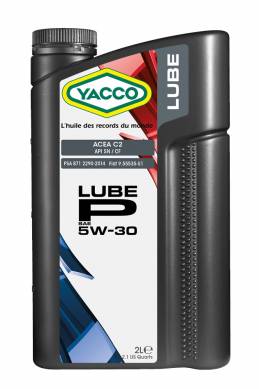 Specifications
ACEA C2
API SN/CF
PSA B71 2290 (2014 version)
Fiat 9.55535-S1
Available packing sizes
1L can
2L can
5L can
60L barrel
208L barrel
1000L tank
1000Lbulk
Descriptions
Yacco LUBE P SAE 5W30 is a 100% synthetic oil for diesel and gasoline engines.
Yacco LUBE P SAE 5W30 is "MID SAPS" and fuel economy.
Yacco LUBE P SAE 5W30 is 100% synthetic LongLife " and fuel economy lubricant designed for the last generation of gasoline and diesel engines.
"Mid SAPS" technology provides protection to post-treatment systems. This oil is particularly recommended for the lubrication of P.S.A.* group (Peugeot, Citroën, DS) and other vehicles requiring the use of SAE 5W30 oil which meets ACEA C2, API SN, API SM, API SL/CF or Fiat 9.55535-S1 specifications: Chrysler , Fiat group, Iveco V.U., Jeep, Toyota...
Properties and advantages
"MID SAPS" technology (lower levels of sulphated ash, phosphorous and sulphur): extends the service life of particulate filters.
Low HTHS viscosity at 150°C for reduced fuel consumption: this increases environmental protection and reduces pollutant emissions.
Outstanding resistance to oxidation, even to VOME (vegetable oil methyl esters) and increased protection against wear: allows for safe prolonged periods between oil changes.
Tested by means of PSA specific engine and laboratory tests.
*For the latest engines, use a PSA B71 2010 or PSA B71 2312 or PSA B71 2290-2016 oil according to P.S.A. recommendation.